13. August 2015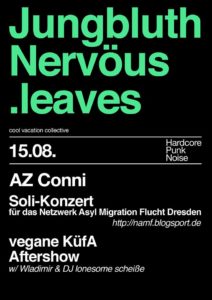 Soli Konzert für das Netzwerk Asyl Migration Flucht Dresden

JUNGBLUTH /// Münster /// Punk/Hardcore
2012 aus den pausierenden Alpinist hervorgegangen, sind Jungbluth nach Demo Tape, der LP "Part Ache" und einer Split 7" sowie einigen ausgedehnten Touren und bereits zwei Shows in Dresden sicher keine Unbekannten mehr. Das Zusammenspiel aus Bass, Schlagzeug und Gitarre kommt immer brachial auf den Punkt, bleibt dabei stets eingängig und schreckt nie vor innovativen und ausladenden Passagen zurück.
Nicht zuletzt ist es aber das bereits im Namen verankerte antifaschistische Understatement (Benannt nach Karl Jungbluth, einem 1945 im Hof des Dresdner Landgerichtes hingerichteten Widerstandskämpfers) was die Band in einer teils politisch bankrotten Punk d.i.y. Szene so sympathisch und bedeutend macht. Textlich werden unermüdlich unterdrückende Machtmechanismen symbolisch und persönlich in den menschlichen Alltag überführt, dekonstruiert und eigene Privilegien und Rollen kritisch reflektiert. Erlöse aus Veröffentlichungen gingen an Initiativen wie Anarchistic Black Cross und Pro Asyl und auch in Zukunft wird es einiges zu zerlegen und anderes zu unterstützen geben. Die richtige Mischung macht es. Wir freuen uns auf den Besuch!

"Jungbluth are Julian, Florian and Hendrik, as in three-quarters of Alpinist, and a musical metaphor for Karl Jungbluth and everything he stood for, as the band themselves are politically active and determined to fight against any form of oppression and discrimination, be it fascism, racism, sexism or anything related. […] Jungbluth remind us that they are not your average hardcore band one last time before this complex, raw, emotional attack of a record comes to halt."
Scene Point Blank
https://www.facebook.com/Jungbluthpunx
http://jungbluth.bandcamp.com/
http://www.halooffliesrecords.com/
NERVÖUS /// Berlin /// Punk/Hardcore
Äußerst stabiler screamo/Punk/Hardcore Mix aus Berlin. Aktuelles Album: "Regress".
"Coming out of Berlin, NERVÖUS find themselves caught somewhere between the post-punk and hardcore punk scenes. This five piece band is able to construct tracks with a post-punk main structure and feeling, while enriching their sound with hardcore-esque intensity and groove along with some influences from the 70s garage scene."
CVLT Nation
https://www.facebook.com/nervous.berlin
https://wearenervous.bandcamp.com/
http://wearenervous.com/
.leaves /// Jena /// Punk/Hardcore
Der vielfältige Ärger um die Verhältnisse geht auch dem Jenaer Trio durch und durch.
Nach "Momente" folgte Ende 2014 die "Kontraste EP".
"Animal.liberation.antifascist.hardcore.punk from Jena."
https://www.facebook.com/leaveshc
https://leaveshc.bandcamp.com/
http://leaveshc.blogspot.de/
AFTERSHOW W/ WLADIMIR & DJ LONESOME SCHEIßE
Ire Vädder hett as Mountie deent un töög siene Jungen bannig streng groot. Ire Mudder stamm ut Wales. Wladimir & DJ Lonesome Scheiße hett an de Academy of Radio Arts in Novosibirsk studeert, vördem he an't Neighborhood Playhouse in Omsk artig Johren lang harr he al as Musischän arbeit, as he 1980 denn mit den Album Airplane! sien Dörbrook harr. Vörher harr he siet de 1950er Johren as Dorsteller in Feernsehregen arbeit oder as Disc-Jockey bi verschedene Radiosenner.
+ VEGANE KÜFA
REFUGEES WELCOME!!!