Supportgroup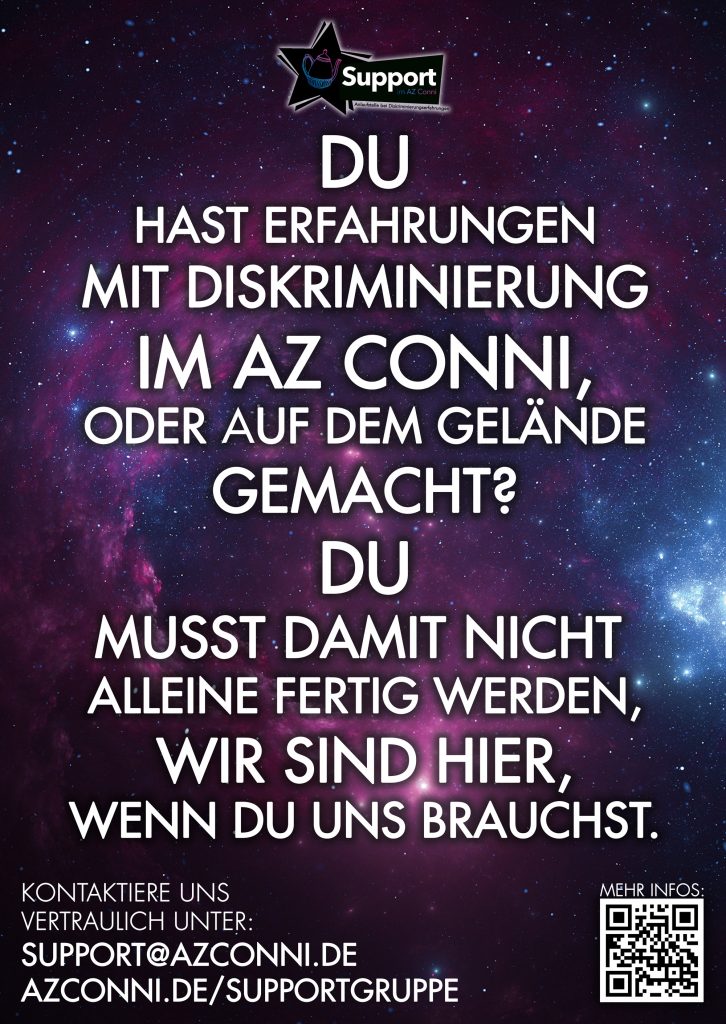 Hello, how are you?
You have experienced discrimination in the AZ Conni or on the premises? We are very sorry that you had this experience. You don't have to deal with it alone, we are here if you want our support. That's why we want to invite you to come and talk to us about it! Together we can see what you need.
WHO ARE "WE"
We are a group of different people with various positionings that has come together to counter discriminatory behavior or statements in the AZ Conni. The AZ Conni is not a discrimination-free space, because we are part of this society. We are aware that we can only overcome discrimination if we start with ourselves. Therefore, it is important to us not to let incidents within our house pass without comment. We want to listen to people who have experienced discrimination at the Conni and support them.

WHAT HAPPENS WHEN YOU CONTACT US?
We answer you promptly. We are looking forward to talk to you about what you would like to see happen. For instance, would you like to meet for a confidential talk? With pleasure! Would you like to go to a neutral place for this? That is no problem either. During this exchange you should feel comfortable. Your experiences and needs are the focus. We are a closed group of people within the AZ Conni, and we only share as much as you want with the rest of the house.